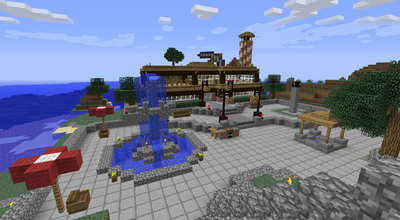 Description
The courtyard is a largely decorative area surrounding the Community Center.
The main features include a lit fountain, a functional well, a functional stone generator, decorative chairs with umbrellas, lamp posts, and a large oak tree.  There are also several potted flowers around the area.
History
The couryard is one of the more recent additions to the CCA, added October 2012.
Future Development
The bounds of the courtyard, particularly on the north side, will change to accomodate the future seaport in the bay facing east.
Trivia
The area near the oak tree was once a pig and chicken corral, created by TheDarkArcane, on the first day we created this map.